Inspiring Stories: Interfaith Family Choices
May 25, 2022 @ 4:00 pm

-

6:00 pm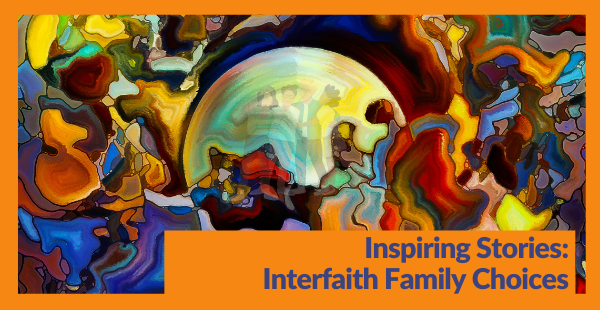 Challenges and blessings of interfaith marriage and families  
With interfaith marriage on the rise in the United States and other countries, we begin a four-part series exploring the experiences of interfaith families. Their stories offer us a glimpse of how people rely on their deep love for one another and on their spiritual traditions to work through challenges and build flourishing relationships.
In this session, we ask:
How do interfaith family members navigate the choices they make about their spiritual journey, together and individually?

How can both partners practice their own spiritual traditions in ways that support one another?

And how do interfaith families find or create communities that understand their unique experiences? 
Our Keynote Storytellers will share their personal experiences and insights. These family stories shine a light on the past, present and future of this growing trend. Speakers for this event will be announced soon.
Never attended an Inspiring Stories event before? The Guibord Center is an interfaith organization dedicated to opening hearts and minds. We're partnering with IslamiCity, a global Muslim e-community to offer Inspiring Stories. To learn more, check out our previous seasons:
Inspiring Stories for Uncertain Times
Inspiring Stories: Healing Our World
What's new in 2022? Thanks to your support and participation, Inspiring Stories has become part of the DNA of The Guibord Center and IslamiCity! So we will be offering a new episode every month throughout the year.  
What's the same? Compelling storytellers whose personal reflections open a space for deeper exploration and transformative engagement on challenging issues that affect us all.  We hope this virtual collaboration will serve as a model of spiritual and interreligious engagement and mutual enrichment that unites our communities in faith and hope for a better world.