There is something about Mary, mother of Jesus, that we experience but cannot explain. It appears in the countless stories of her reaching across different faiths and boundaries to touch those seeking solace and compassion in a world heavy with grief.
We discover Mary through the stories our speakers share in their particular sacred scriptures. Mary, mother of Jesus, as seen in the Gospels of Christianity. Maryam, "the greatest of all women for all time," as she is known in the Holy Qur'an. Mary Mata, Mother Mary, the beloved mother known to Hindus worldwide.
Three skilled panelists lead us on an engaging spiritual journey through the history of her presence in their faith traditions. We follow them through the past to the undeniable power of her presence today. Even in our contemporary world, Mary continues to bring solace and transformation to believers and unbelievers alike.
What does it mean to be virginal, pure, immaculate and obedient to God? The discussion following the initial presentations brought out a dimension of courageous strength and powerful knowing that challenges perceptions of Mary as passive and blindly pliable.
For Christians and Hindus, Mary is the mother who stands at the foot of the Cross, present for her son's execution. In Islam, Mary is one who never shies away from the hardships or confrontation inherent in mothering her son.
Mary is seen throughout the world as one who rescues us from all manner of despair and consistently pushes us towards peace in the midst of war. She illustrates that deep faith and remarkable courage are essential for compassion. In a world in urgent need of such transformative spiritual strength, we have much to learn from the Mary of Christianity, of Islam and of Hinduism.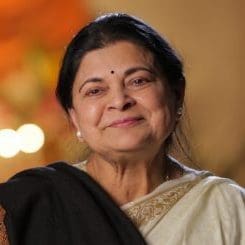 Dr. Rini Ghosh, Secretary of The Guibord Center Board of Directors, has been a key part of the Center since it began. A previous member of the Advisory Council, she is also active in the Center's programs for children, youth and young adults. Rini was born and...
read more
Additional Resources:
From Dr. Ray Mattes
Truly Our Sister: A Theology of Mary in the Communion of Saints by Elizabeth A. Johnson, Continuum 2003.
Blessed One: Protestant Perspectives on Mary edited by Beverly Roberts Gaventa and Cynthia L. Rigby, Westminster John Knox Press, 2002.
Mary in Early Christian Faith and Devotion by Stephen J. Shoemaker, Yale University Press, 2016.
The Origins of the Cult of the Virgin by Chris Maunder, Continuum Books, 2008
Poem read by Dr. Lo Sprague
"Gabriel's Annunciation" © Jan Richardson from The Advent Door.
https://adventdoor.com/2014/12/19/advent-4-gabriel-and-mary/
Download and print the poem: Gabriel's Annunciation