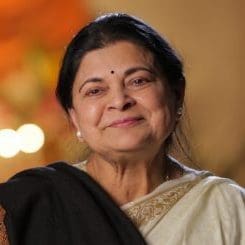 Dr. Rini Ghosh, Secretary of The Guibord Center Board of Directors, has been a key part of the Center since it began. A previous member of the Advisory Council, she is also active in the Center's programs for children, youth and young adults.
Rini was born and educated in India, where her PhD dissertation focused on "T.B. Macaulay's Minute: Formalization of English Education in India." She has lived in California for over 35 years, running her own business.
From a young age, Rini has been a peace activist and steadfast follower of Swami Vivekananda and Mahatma Gandhi. A passionate advocate of interfaith cooperation, she has promoted peace, nonviolence and interfaith activities around the world. Rini serves on the board of the Vedanta Society of Southern California; as President of Vedanta International Cultural Center (VICC); and as Director and Parliamentarian of the United Nations Association, Pacific-Los Angeles Chapter.
A Universal Peace Federation Ambassador for Peace, Rini has been honored with the South Coast Interfaith Council's Interfaith Unity Award. The Urban Community Outreach Center, Long Beach has recognized her and VICC for inspirational service/seva to the homeless.
Speaker: There's Something About Mary​: Why Major Religions Revere the Mother of Jesus