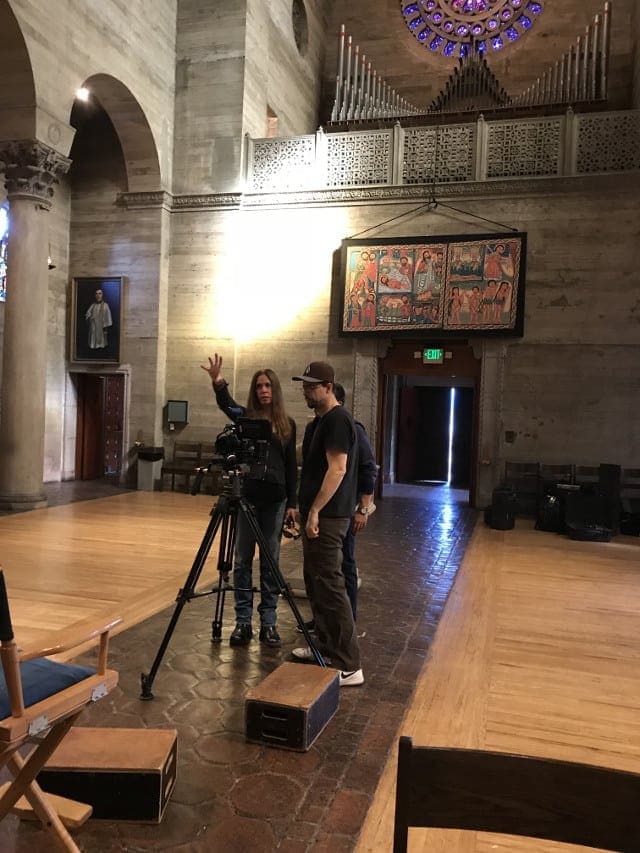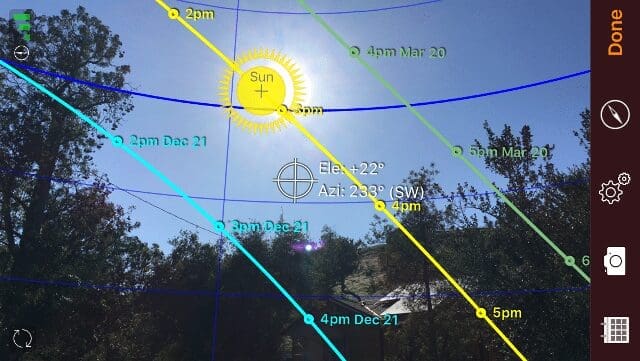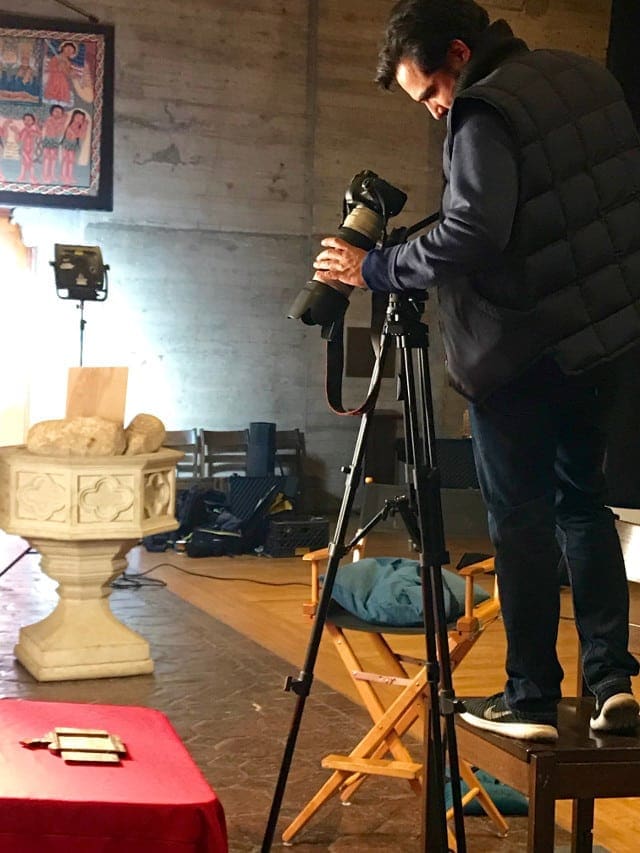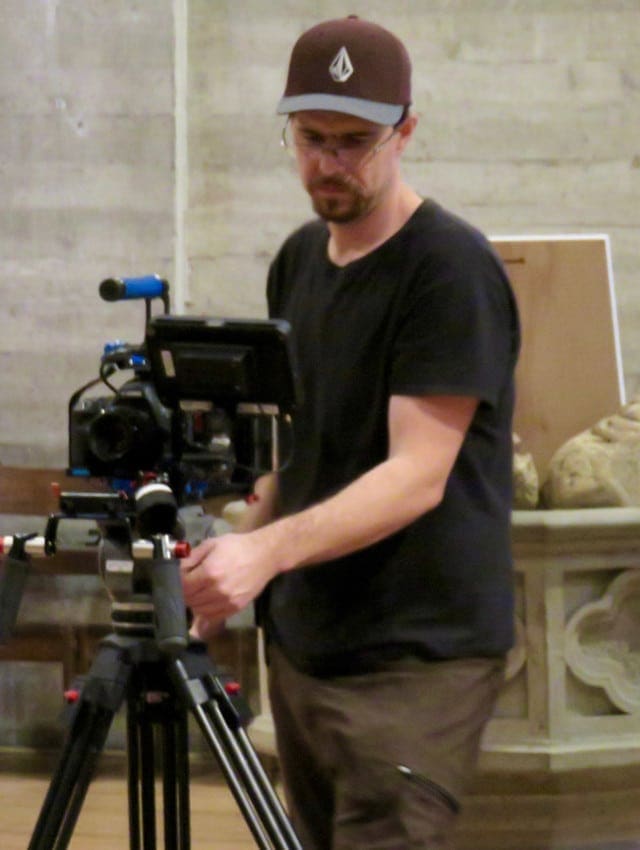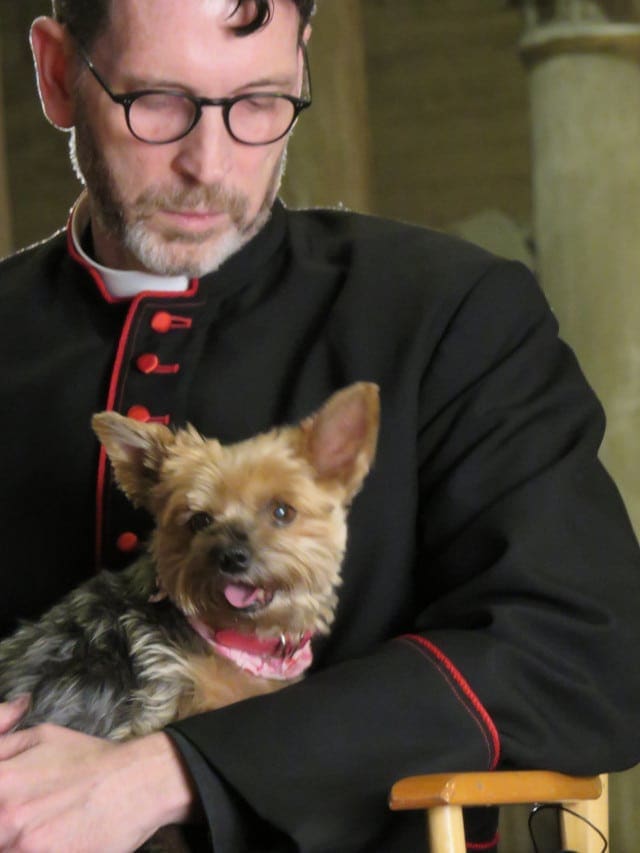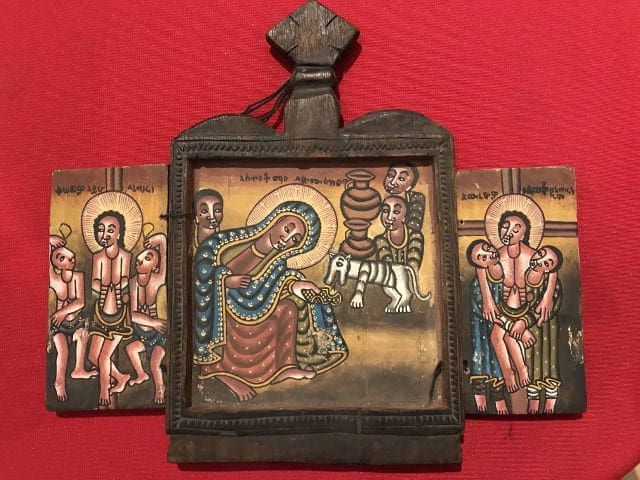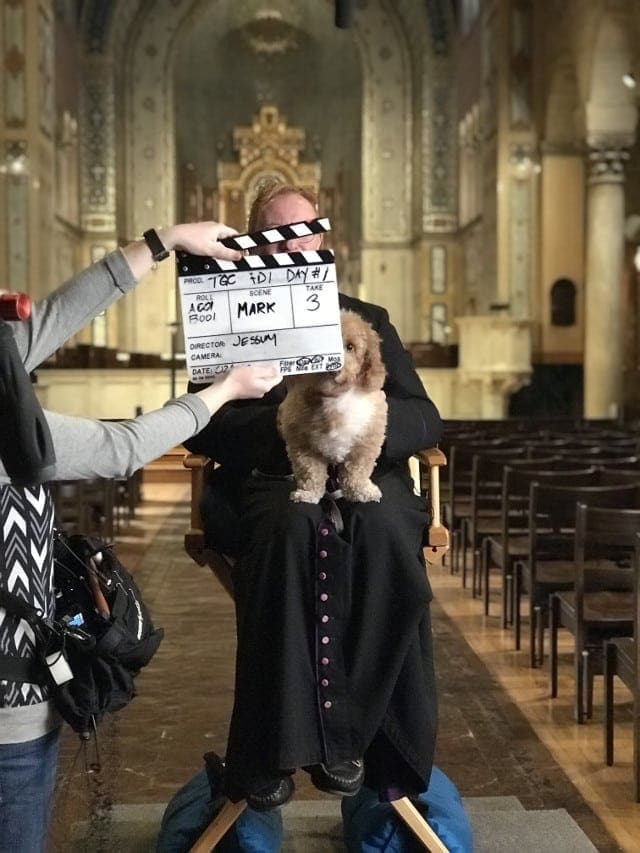 Father Dan Ade, Dean and Rector and Father Mark Kowalewski, Dean and Rector
St. John's Cathedral is home to many of The Guibord Center's events.
That made it a good place to start the filming for Animals, Faith and Compassion, bringing the voices of faith into the conversation. We already knew the rules and protocol of St. John's. A number of the other sacred sites we were to film in would be new to us. Here we could relax, focus on getting the gear in and setting up the shots.
As acting executive producer and newest crew member, I had the most to learn by far. Joseph Tomas and Aaron Torres formed Jen's camera crew and lighting team. Having worked with them before, she knew each to have the same sense of artistic excellence that she has. Their painstaking efforts throughout the filming were astounding to witness. Jennifer envisioned each speaker set in a visual fame comprised of the sacred objects and views that were the soul of each site. Using their palette of lights and shadows, angles and sight-lines, they created subtle delights of color, layer-by-layer, for the backgrounds Jennifer required.
It was no easy task. It took great patience as well as diligence and skill. Jennifer and Aaron had scouted every location in the week before we began. Using a device that measured the angle of the sun throughout the days, they noted the best times to arrive at each spot to capture the desired images bathed in just the right natural light.
It took nearly three hours to get everything in place before we could even begin filming. Fr. Dan sat patiently comforting a small dog in his lap through most of an hour. The director's chair is not a comfortable seat. He was quite gracious.
Finally, finally we were ready and those wonderful words rang out: "Quiet on the set"… "and Action." Jennifer began speaking. Quietly. Naturally. Dan responded. The dog relaxed. We were rolling. A few moments later, the sound technician's hand shot up. "Siren." We waited. Her hand came down. We kept rolling. Her hand came up again as the Metro-link roared by. St. John's is an urban church. It's in the middle of downtown Los Angeles. We captured material a few minutes at a time. Soon I forgot the noise and was caught up in Fr. Dan's conversation. He was talking about the Book of Genesis and St. Paul's letters. He was talking about scripture from the Bible that I know and love, and that I had somehow skimmed over, not really seen at all, much less considered. It happened often in our two weeks of filming, this phenomenon of discovering an expansive view of the relationship of animals to the very essence of creation that lay hiding plain sight.
Suddenly a loud and unrelenting noise obliterated the moment. It stopped. And then it started again. And then it stopped. And,.. I walked outside. A crew from the City had pulled up and begun sandblasting. There was no stopping them.
While Madison McGaughy is as good at handling the sound equipment as anyone can be, we had no choice but to wait.
Finally the noise cleared long enough to get the footage we needed. Fr. Dan left us with a wonderful Ethiopian story of Mother Mary and a thirsty dog. Our very patient and weary first participant had given us exactly the kind of material that will bring perspective to this conversation.
Since co-Dean and Rector Fr. Mark was there in his office – and had his dog – I asked if he would join us for a few minutes as the day sped on. He did. Both the story of Jack, "the Church Dog" sitting there on his lap and his offerings as a theologian underlined things that his colleague had addressed and shined light on several others.
[Excerpts from these speakers will appear in our new, unfolding section: "Animals across Faith". See tomorrow's blog for the first entry.]
Read all the Posts and get the whole story HERE