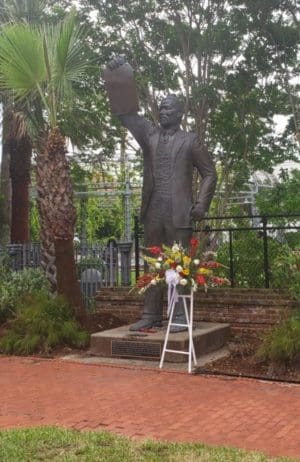 A statue of the late Rep. "Al" Edwards Sr., who successfully campaigned during his freshman year to make Juneteenth a state holiday in Texas (1979).
Photo: Wikipedia Commons
Honoring the Juneteenth National Holiday
Every year between the public reading of General Order No. 3 on June 19, 1865, in Galveston, TX that declared, "All slaves are free," and the recognition of Juneteenth as a national holiday in the United States in 2021, Black communities have celebrated freedom from enslavement—sometimes publicly and sometimes privately—even as they have experienced the ongoing horrors of systemic racism and white supremacy.
Today on the 157th anniversary of Juneteenth, we acknowledge the essential contributions of the enslaved and free Black men and women who have built and defended the United States, and reflect on what we are still learning from our collective history to build a just and equitable society for all.
"The project of freedom, Juneteenth reminds us, is precarious. We should regularly remind ourselves how many people who came before us never got to experience it and how many people there are still waiting."
Smith, Clint. How the Word Is Passed (p. 206). Little, Brown and Company. Kindle Edition.
You may also wish to read more about Juneteenth in this article