Support The Guibord Center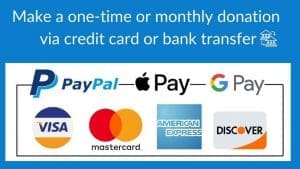 Mail your check payable to:
The Guibord Center
137 North Larchmont Blvd. #566
Los Angeles, CA 90004
The Guibord Center – Religion Inside Out is a 501(c)3 nonprofit organization (TIN 27-2054081). Your donation is tax deductible to the full extent of the law.
Additional Ways to Give
Additional ways to support The Guibord Center include:
* Gifts of stock
* Appreciated securities
* Wire transfers
* Planned giving
These donations may offer benefits such as tax deductions and the ability to give beyond the limits of your current income. For many people, planned or legacy gifts offer tax benefits, allow donors to give larger amounts to their favorite causes, and assure donors' legacies beyond their lifetime. Popular options include bequests, annuities, and trusts. Please consult your tax advisor for information on your specific situation.
To learn more about gifts of stocks or funds, wire transfers, or securities or making legacy gifts, please contact Mary Kirchen, TGCFinance@TheGuibordCenter.org.