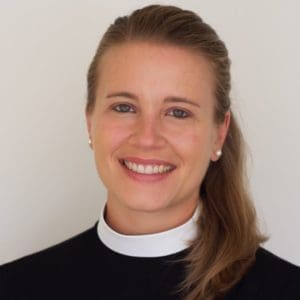 The Rev. Claire Dietrich Ranna is the Rector of Christ Episcopal Church and the Chaplain to Ventana School, a Reggio Emilia inspired Pre- and Elementary School in Los Altos, CA.  She is a member of the Los Altos Rotary Club and serves on the board of Community Services Agency of Mountain View and Los Altos. 
Rev. Claire earned her Master of Divinity at Berkeley Divinity School at Yale University in 2014, and then served The Episcopal Church of St. Mary the Virgin in San Francisco as Associate Rector.  
Before pursuing theological education, she co-wrote and co-produced the award-winning documentary film Miss Representation. Her writing has been published by onbeing.org and Young Clergy Women International, and she currently co-hosts the Vital+Thriving Congregations podcast.
Her husband, Haamid, was born and raised in Pakistan and identifies as Muslim. They have two young children. You can find Rev. Claire at www.ccla.us.
Storyteller, Inspiring Stories: Interfaith Family Life Across Three Generations