In the Final Stages of an ADI Rescue
It is a gigantic blur – a dream – but it is real!
WE ARE  GOING TO AFRICA!
WE ARE GOING NOW!
Not tomorrow or next week.
NOW.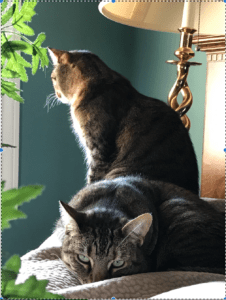 After many months of excited anticipation, unexpected complications and last- minute postponements, suddenly everything is a "go". I kiss my two "Little Lions" good bye and head out the door. Somehow, I find myself piled into an Uber along with a mountain of luggage in the middle of the night with my dear friend and treasured Guibord Center colleague, Mary Kirchen, racing through LA traffic to try to catch the midnight flight to Guatemala. Yes, at last, this is real!
This trip was planned nearly two years ago, when Animal Defenders International (ADI) was able to rescue more than a dozen lions and tigers from the circus trade in Guatemala. ADI's Jan Creamer and Tim Phillips were instrumental in getting legislation passed to outlaw these animals in circuses. As long-time followers of ADI's important work protecting all kinds of animals, Gwynne and Mary and I knew that The Guibord Center would partner with them to share their work in our Animals, Faith and Compassion Initiative.
Mary and I arrive in Guatemala at dawn, eager to learn more about how this remarkable couple has been able to gather and guide people of conscience across the globe to take action to end so many different forms of cruelty and indifference to animals. I am humbled to play a small part in this work that is changing hearts and minds and culturally engrained habits of cruelty that go back for generations.
It brings tears to my eyes as I write these words. What an incredible privilege and the dream of a lifetime it is to get to be part of this extraordinary passage of restoration and compassion. People of goodness like Jan and Tim and their counterparts all over the world refuse to stand aside while these innocent beings are kidnapped and forced into lives of misery. And we are standing with them.
In my heart I know that this is where The Guibord Center needs to be – not doing the rescues – but supporting these works of compassion – bringing the numerous voices of our many faiths and people of good faith together to speak out in the defense of the defenseless. That's what spiritual values are all about. We have to find ways to raise our voices of conscience in every country and corner of the world. We have to come together to speak and live the unspoken truth that real satisfaction and safety come in acts of decency and compassion
Compassion begins with animals. It is as simple as that. Animals are the place to begin. Science has discovered that every child is born with a brain designed for spirituality: an acute sensitivity towards something larger than ourselves that unites us to one another in the goodness of life. So, children are born with an instinct for compassion, and we have to nurture it however we can. Animals, it seems to me, are the easiest way to begin. We have to find the words and be the examples.
While our plane flies through the early-morning darkness I think about what lies ahead when we arrive. As the president of The Guibord Center, I contacted the Episcopal Bishop of Guatemala, Bishop Silvestre Romero, before we even booked the flight, to  ask him if he would join us in this effort by offering a blessing for these animals, a blessing for all of us and for the dangerous journey of compassion that lies ahead. He graciously agreed – instantly, joyfully, whole-heartedly. He even wrote back to ask if his wife could join him. I laughed out-loud. Of course. I look forward to meeting him in person.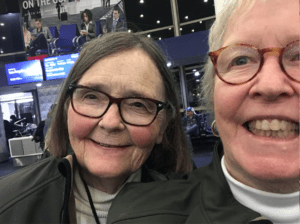 My colleague in this adventure, Mary, and I have done everything we can so far. It is a gift to have her here with me. She is the best of sports, a great friend and confidant, and she is also sound asleep right now. It's time for me to try to do the same.
My feet were already asleep an hour ago, perched amid the luggage crammed beneath the seat. By sunrise we'll be on the ground and  soon thereafter headed for the compound somewhere in the jungle where we'll finally  get to meet 5 rescued lions and 12 tigers and the people who have taken care of them for these many months. It still seems unreal.  But it is no longer a dream.