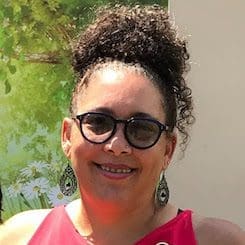 Suzanne Edwards-Acton is the founder of MyWorkToDo.com, a program designed as a space for white people to build stamina for conversations on race. Co-chair of the Program Group on Black Ministry for the Episcopal Diocese of Los Angeles, she is the immediate past Vice President of the H. Belfield Hannibal Chapter of the Union of Black Episcopalians.
Suzanne holds a BA from the University of California, San Diego and a master's degree from Loyola Marymount University. She has spent the greater part of her career in education, having been a teacher and principal. Currently, she is Director of Equity Initiatives for the Center for Collaborative Education's Community Partnerships for Teacher Pipeline. From 2011-2017, Suzanne served as Director of the Jubilee Consortium Episcopal Urban Intern Program (now Jubilee Year Los Angeles). This role combined nonprofit management with her skills in facilitating spiritual formation, which she developed while acquiring a master's degree in Pastoral Ministry from Seminary of the Southwest.
Suzanne hosts the podcast #WeekByWeekBeads::Anglican Prayer Beads. She also facilitates #TwoFriendsTalking::Conversations on race, a Facebook community. Her program #InCreaseTheFold hosts folding (origami) events as a contemplative practice. Suzanne is passionate about racial equity and loves walking the labyrinth and collaging. She avidly follows the re-established North Star publication (originally begun by Frederick Douglass) and the Breakdown Podcast. A clergy spouse, she is mother to two young adult sons.
Guest Moderator, Inspiring Stories: How Do We Stop Perpetuating Racism?