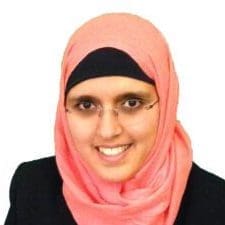 Samia Bano is the Interfaith Coordinator for IslamiCity and a member of The Guibord Center Advisory Council. She serves as co-host of the Inspiring Stories online series, a collaboration between the two organizations.
Known as the Happiness Expert, Samia is author of the book Make Change Fun And Easy: How to Create Inner Peace to World Peace In 3 Simple Steps. Her expertise is grounded in her academic training and hard-won life wisdom. A childhood sexual abuse survivor, Samia began her quest for inner peace and positive change at just 8 years old. After more than 20 years of struggle, she successfully eliminated suffering from her life and learned how to take control of her happiness. Now she is on a mission to help others do the same.
As someone who is recognizably Muslim, Samia deals with Islamophobia on an ongoing basis. After 9/11, this issue motivated her to become engaged in interfaith dialogue and community building. She participates in several interfaith organizations, including NewGround: A Muslim-Jewish Partnership for Change. There, she also served as a Muslim dialogue facilitator for several years.
In 2020, Samia began serving on the Culver City Equity and Human Relations Advisory Committee (EHRAC). In this role, she recommends programs and policies that promote positive relations and equitable outcomes and opportunities in community life.
Storyteller, Inspiring Stories: How Do We Stop Perpetuating Racism?