Resilience and Freedom:
How Enduring Lessons from the WWII Japanese American Buddhist Experience Can Heal Us Today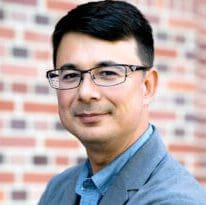 Duncan Ryūken Williams, PhD
Professor of Religion and East Asian Languages and Cultures, University of Southern California
In addition to his role as professor, Duncan R. Williams, PhD directs the USC Shinso Ito Center for Japanese Religions and Culture. Formerly chair of USC's School of Religion, he earlier held the Shinjo Ito Distinguished Chair of Japanese Buddhism at UC Berkeley and directed Berkeley's Center for Japanese Studies. Dr. Williams became an ordained priest in the Soto Zen Buddhist tradition in 1993 and served as Harvard University's Buddhist chaplain from 1994-96.
Born to a Japanese mother and British father, he grew up in Japan and England. At 17, he moved to the U.S. to attend Reed College. Dr. Williams received his PhD in religion from Harvard University. He has authored and edited numerous books on Buddhism in Japan and the U.S. In addition, Dr. Williams has translated four books from Japanese into English, including Putting Buddhism to Work: A New Theory of Economics and Business Management (Kodansha, 1997). His latest book is American Sutra: A Story of Faith and Freedom in the Second World War (Harvard University Press, 2019), which reached #3 on the Los Angeles Times nonfiction bestseller list.
Duncan Ryūken Williams, PhD shares about the experience of Japanese American Buddhists during World War II. Robbed of their civil rights and imprisoned, they found true freedom in the wisdom and nonviolence teaching of their faith.