Author Philip Goldberg in Conversation with the Rev. Dr. Gwynne Guibord About His Latest Book
The Los Angeles Times called Paramahansa Yogananda "the 20th century's first superstar guru." Today, nearly a century after he moved to the U.S., he's still the most beloved of all the Indian spiritual teachers who have come West. Now, with The Life of Yogananda, he finally has the authoritative biography he deserves.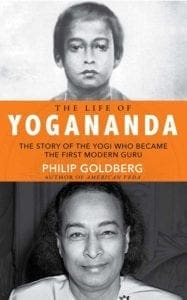 His own iconic 1946 memoir, Autobiography of a Yogi, has sold millions of copies and changed millions of lives. But it doesn't tell the whole story.
Much of Yogananda's seminal text is devoted to tales about other people. Further, it largely overlooks the three vital decades he spent living, working, and teaching in America. Even his most ardent devotees have little knowledge about huge chunks of his life—challenges and crises, triumphs, relationships, and formative experiences.
But this is more than a compelling life story. "Yogananda would, I believe, want any book about him to not only inform but transform," Goldberg writes. "It is my hope that the readers will be enriched, expanded, and deepened by this humble offering." That is sure to be the case for both Yogananda enthusiasts and those discovering him for the first time in these pages.