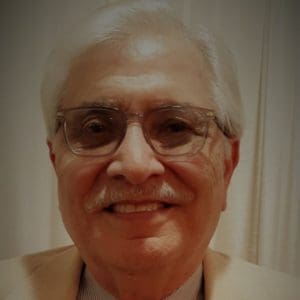 Mr. Kersi Bhikhaji Shroff, a Parsi born in Karachi, India, is an independent student of the Zoroastrian religion and its traditions. His early years were spent at the tail end of colonial British rule in India and saw the creation of the new country of Pakistan (1947), navigating life as part of a small religious minority in a Muslim nation. 
In addition to a long legal career in the UK and the US, Kersi has published many articles on Zoroastrianism and served as a leader in the Zoroastrian community and in interfaith efforts in the Metro DC area for many years. 
Kersi has been married to Alberta Bertuzzi (an Italian American Catholic) for almost 50 years, and they have an adult daughter, Gina Shroff.
Storyteller, Inspiring Stories: Interfaith Family Life Across Three Generations