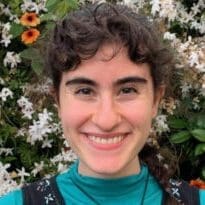 Hana Doueiri is currently a high school senior in San Bernardino, CA. She has been involved in speech and debate for many years and has competed at multiple regional, state and national levels. Her speech on religious intolerance and the importance of protecting people of all faiths won first place in the Original Oratory category at the International Competition held at Stanford University.
Hana has been an Irish dancer since she was three years old, competing regionally and nationally and integrating her dance skills in her speeches and community service. A past camp counselor for youths who are visually impaired, she is a local officer in the International Best Buddies program. The group creates opportunities for one-to-one friendships for students with intellectual and developmental disabilities.
Hana finds comfort and healing in Islam's teaching that God created all humans to interact with and respect one another, which guides her as she connects with people of different faiths.
Storyteller, Inspiring Stories: Healing Our Hearts