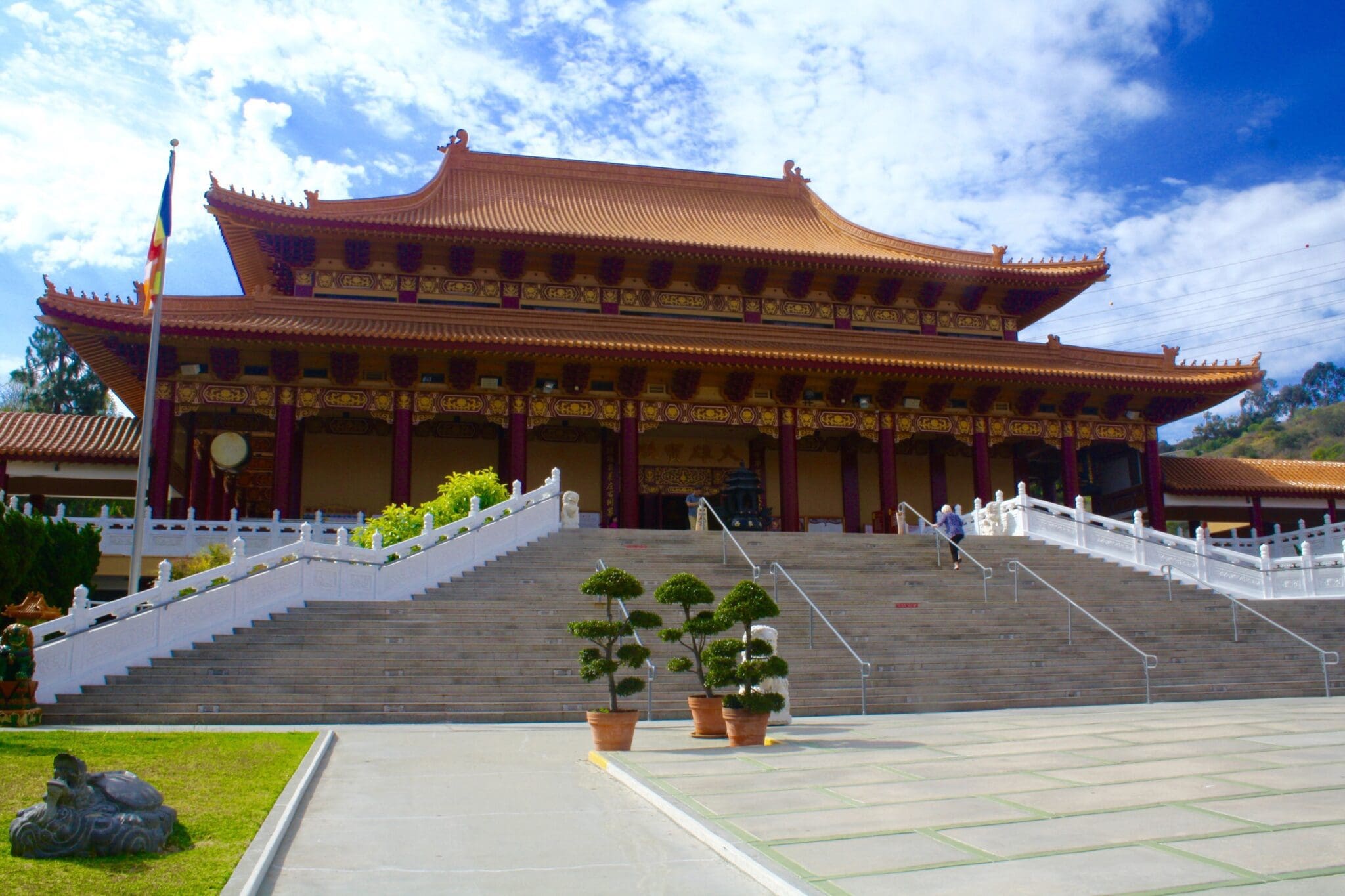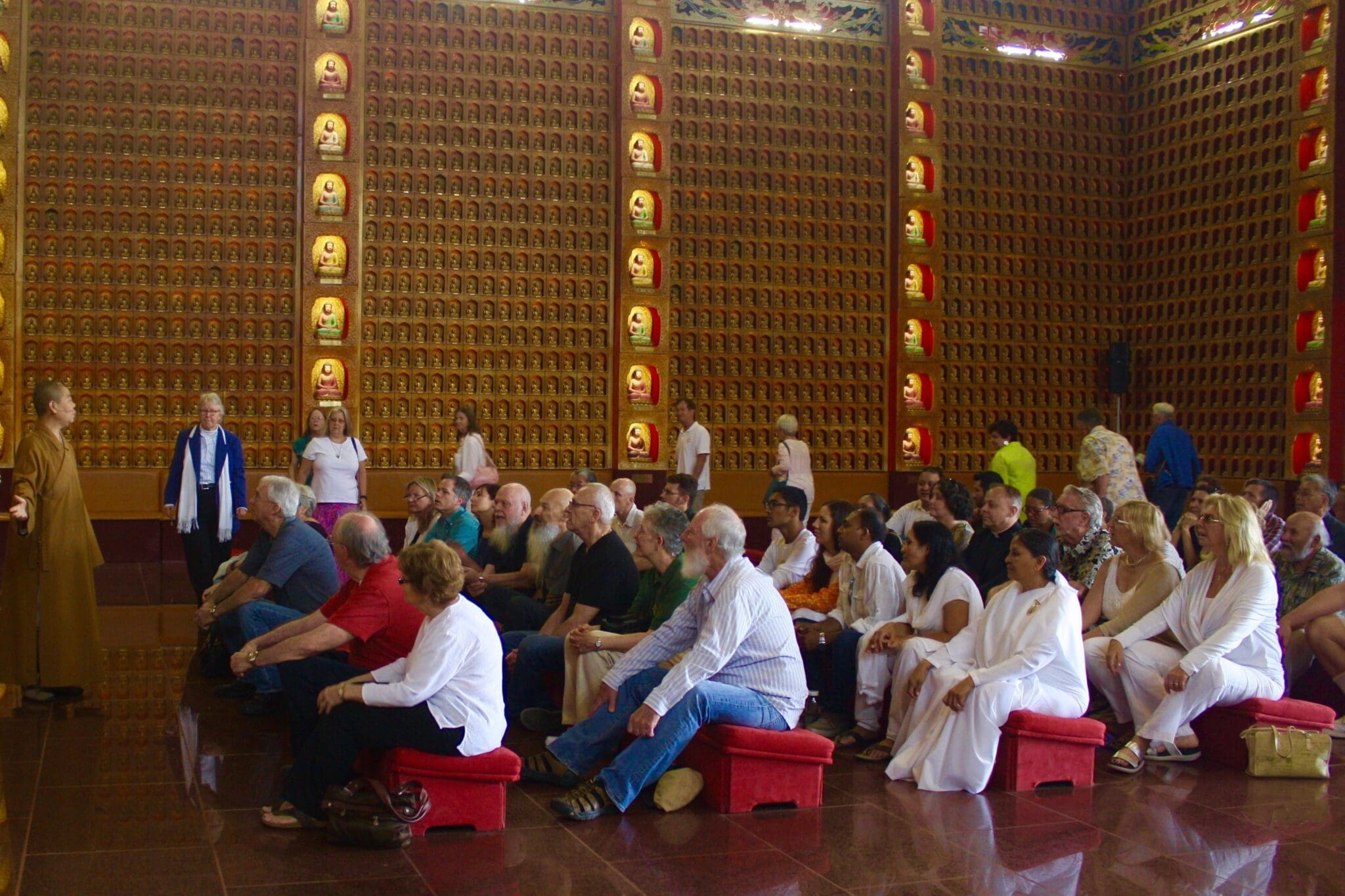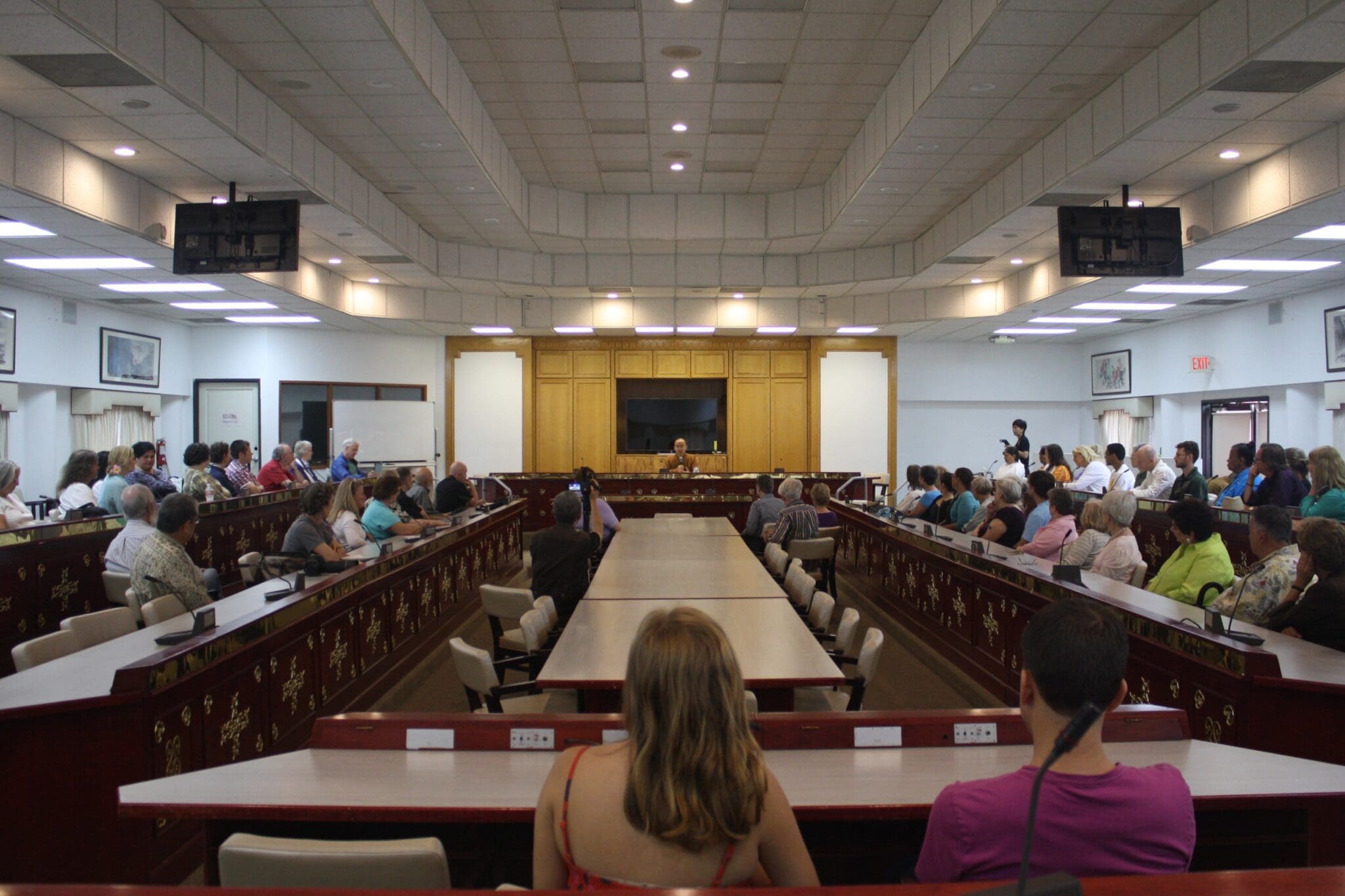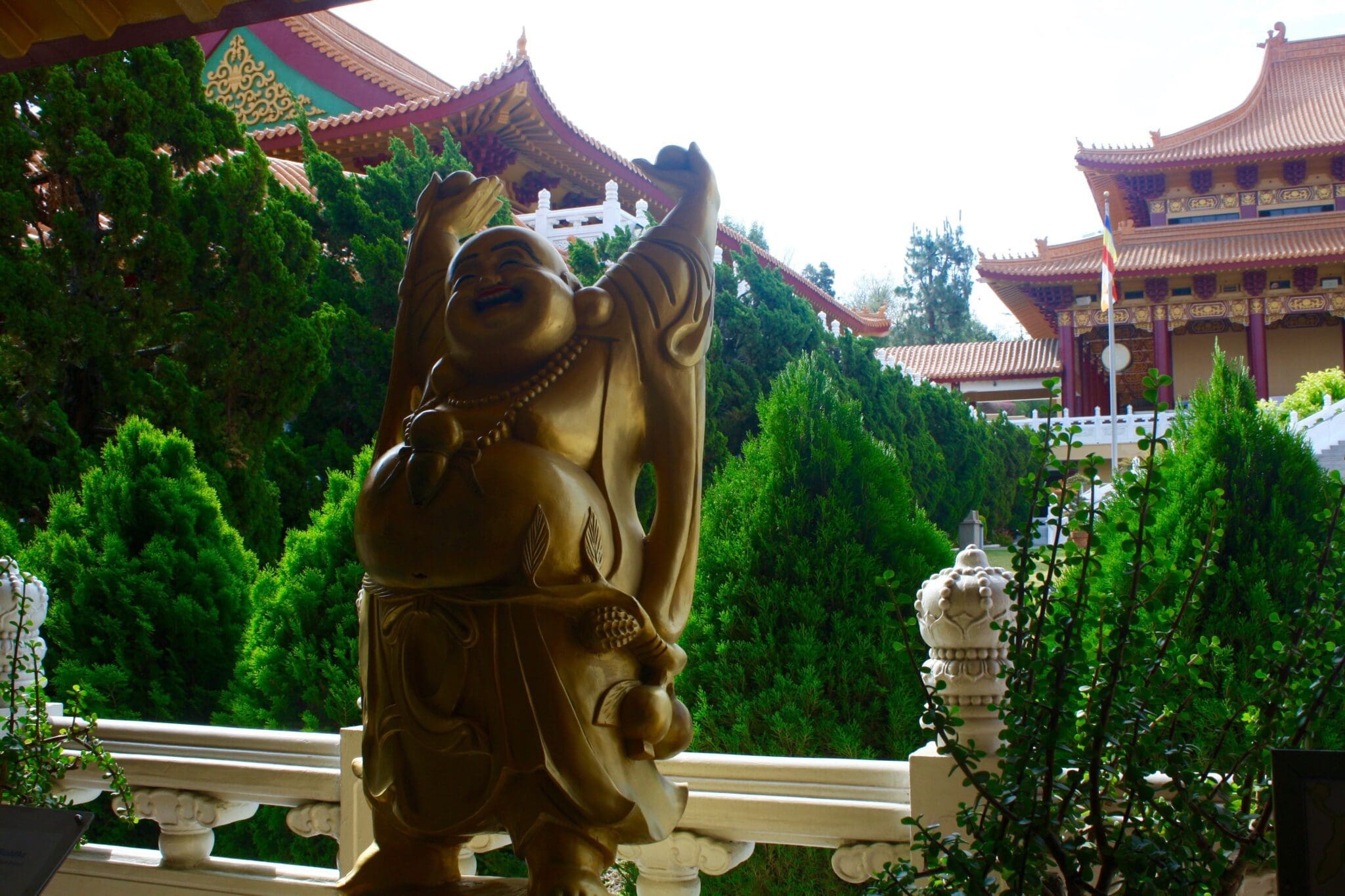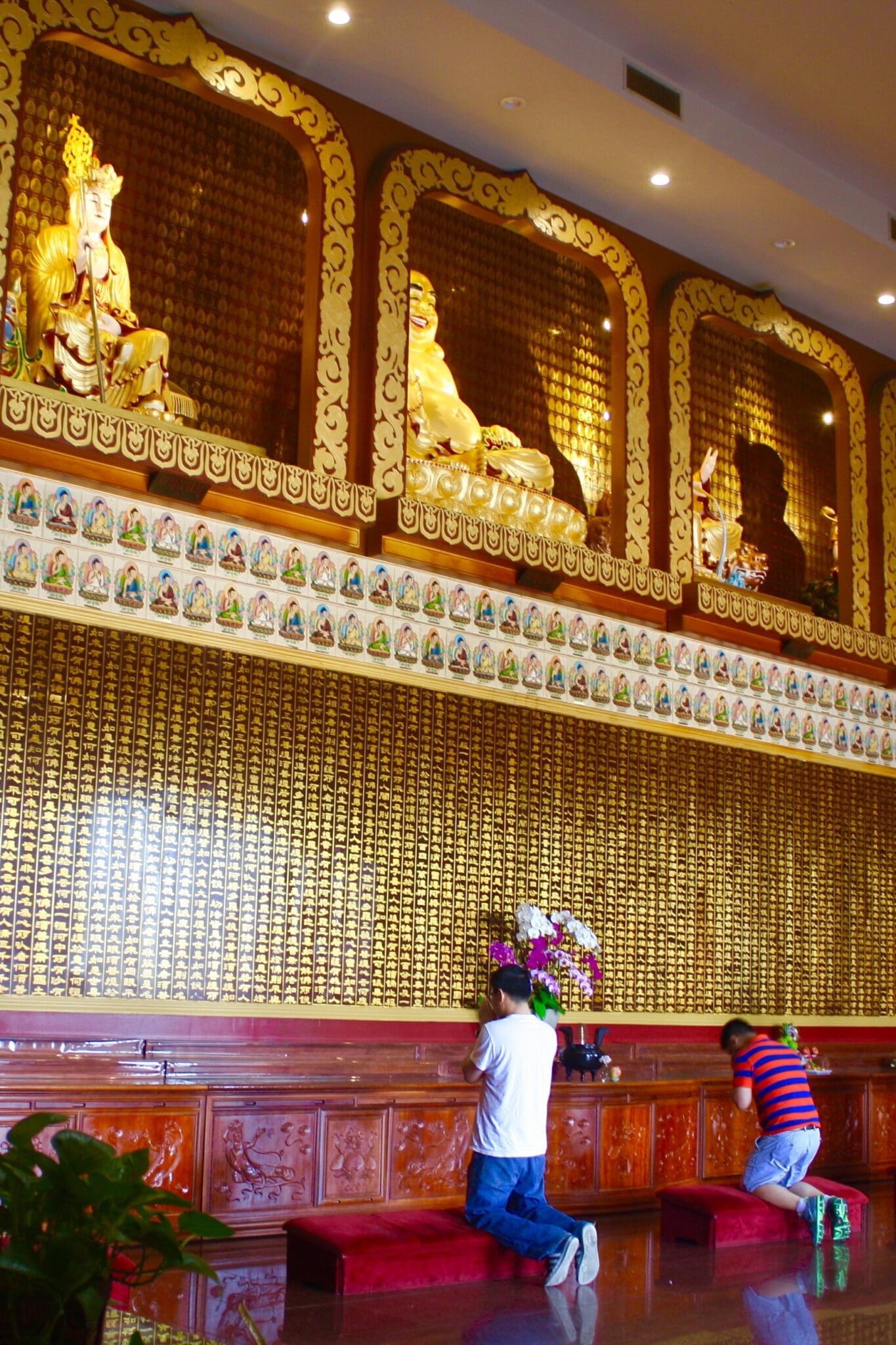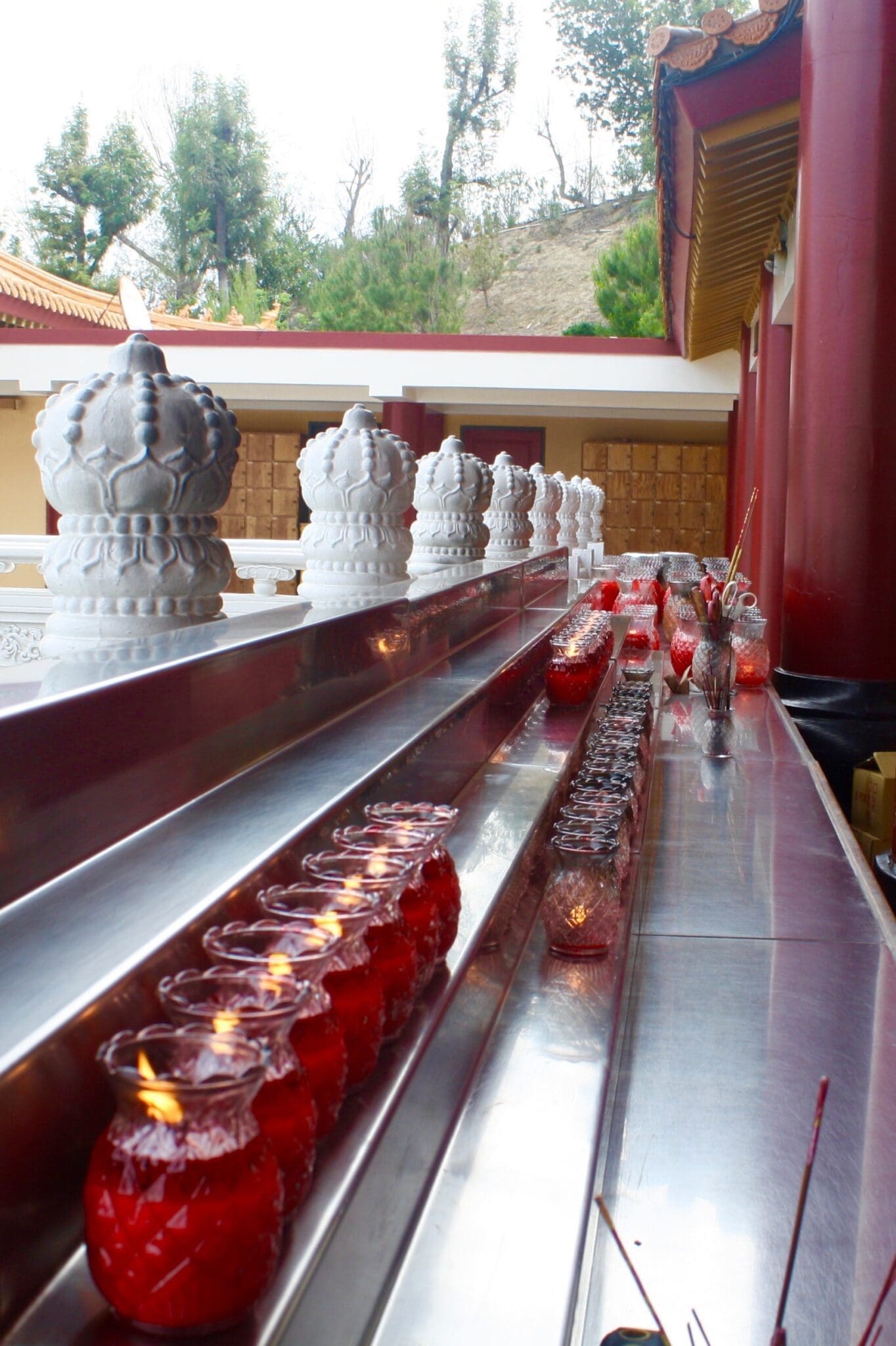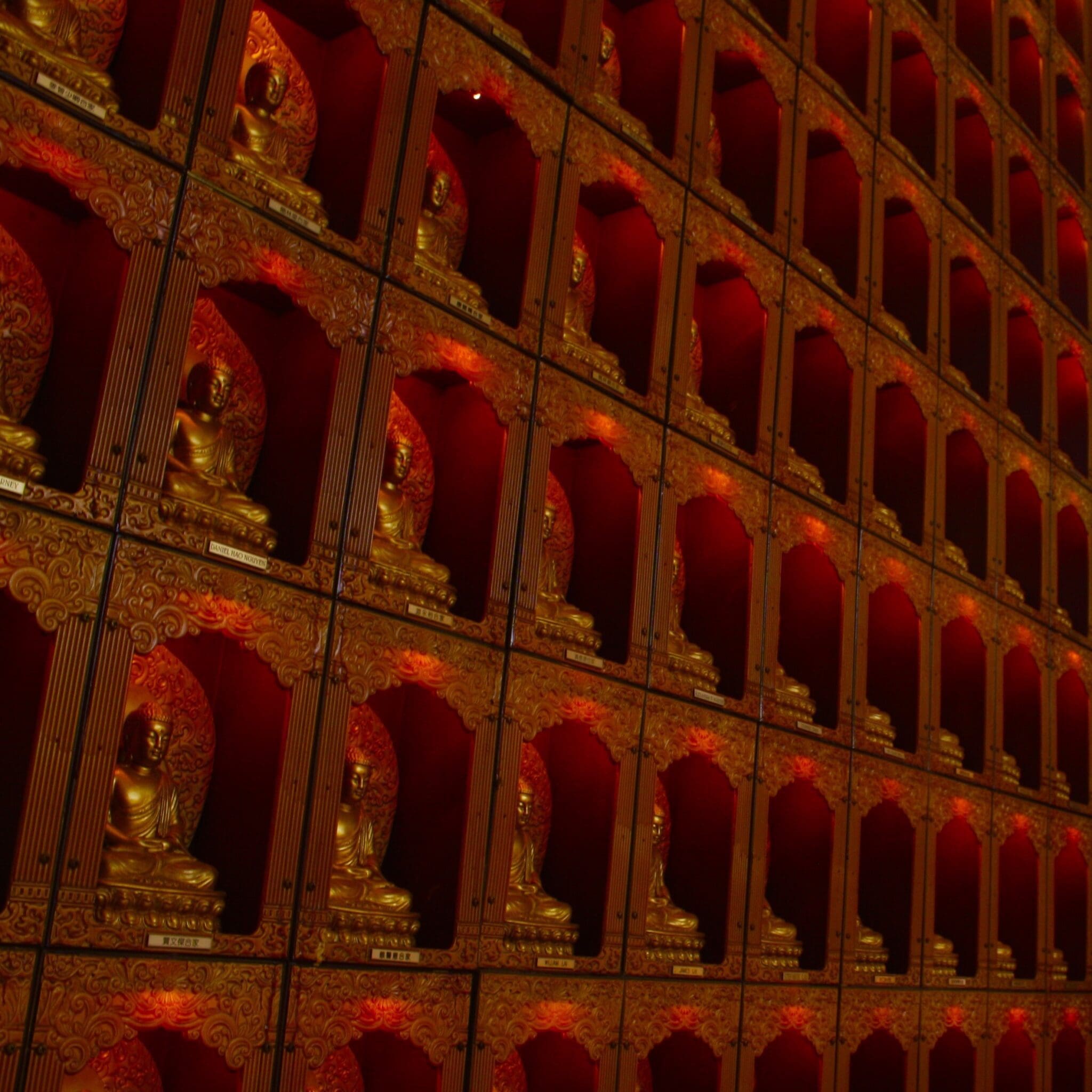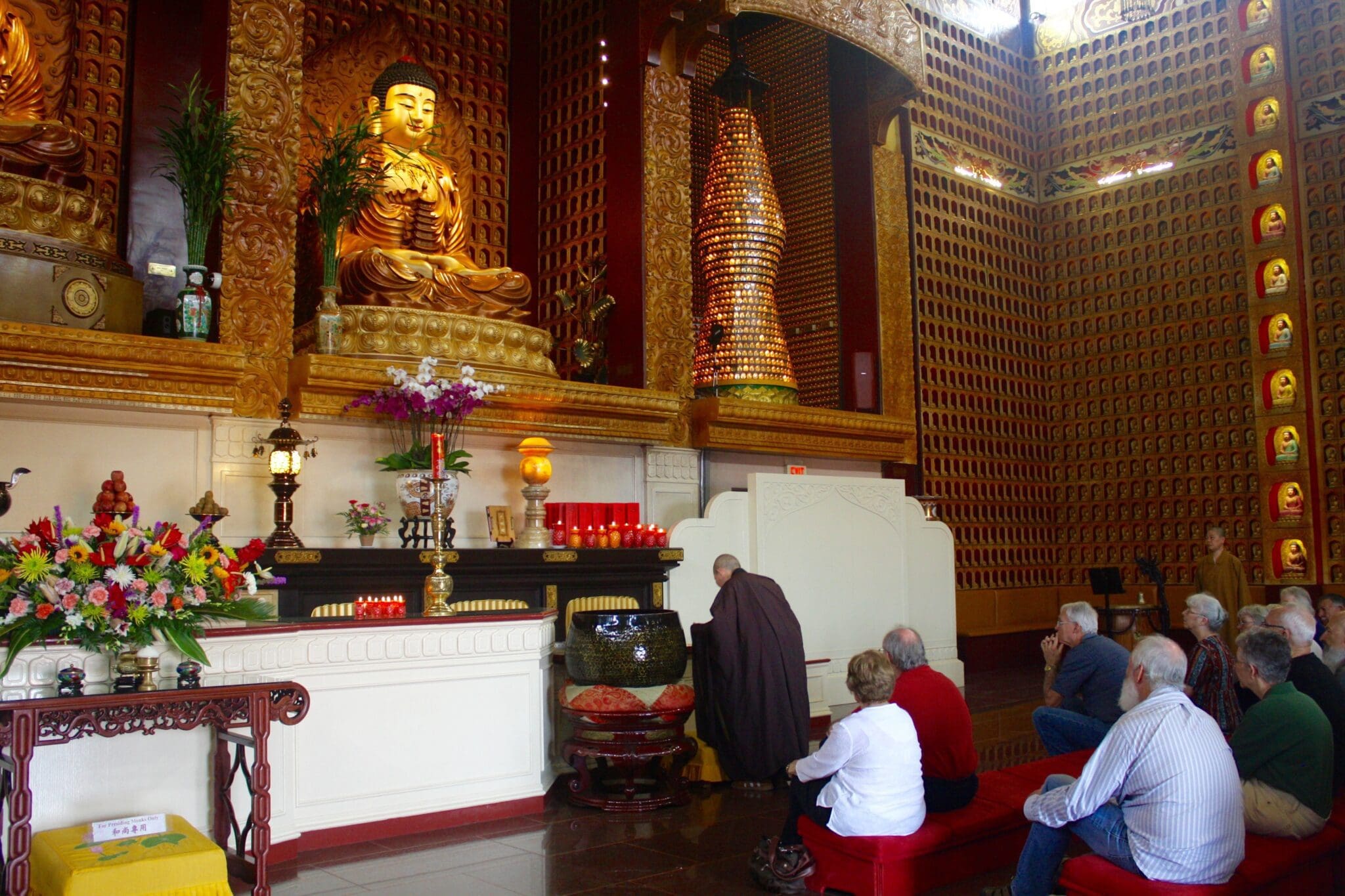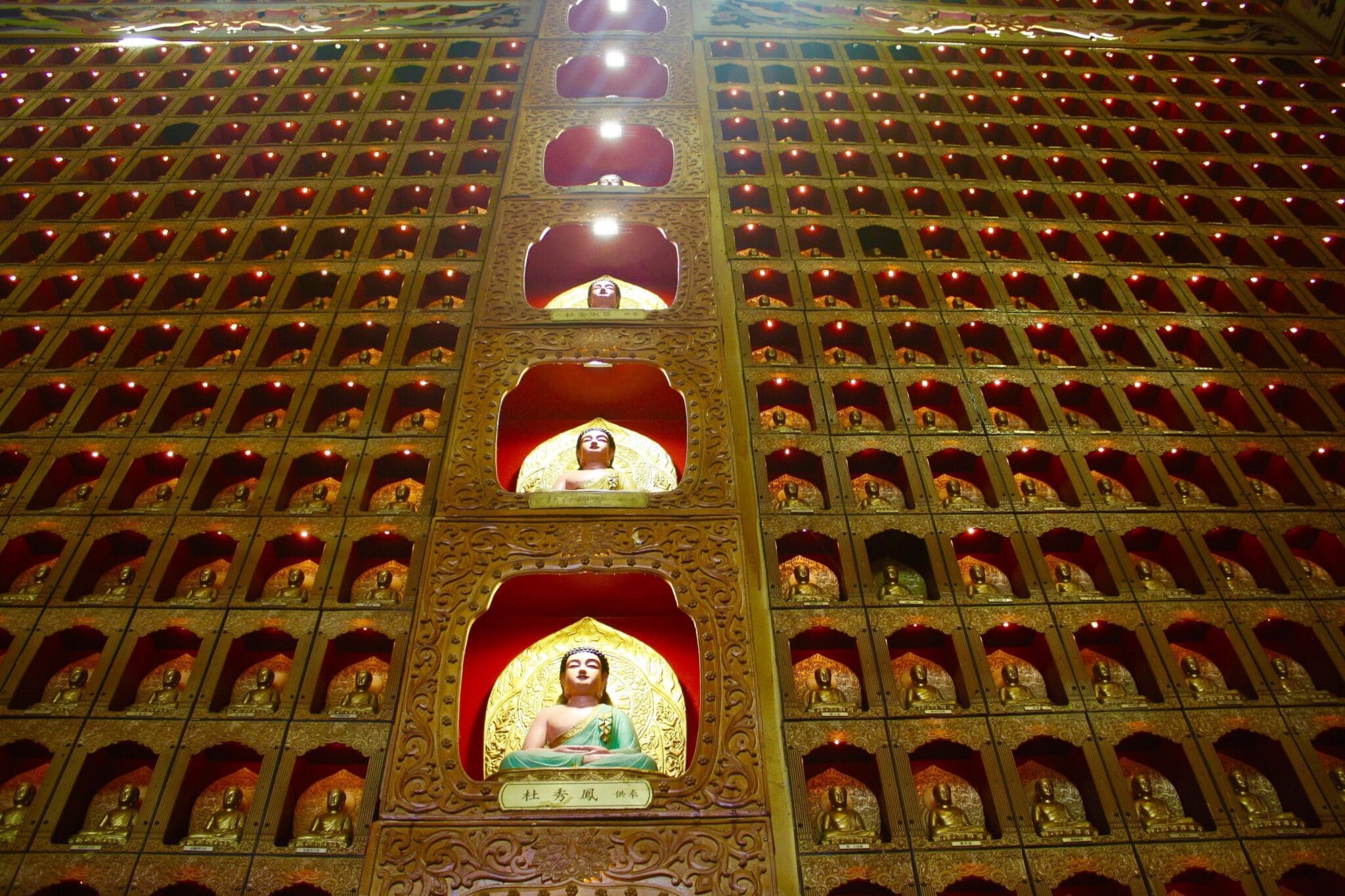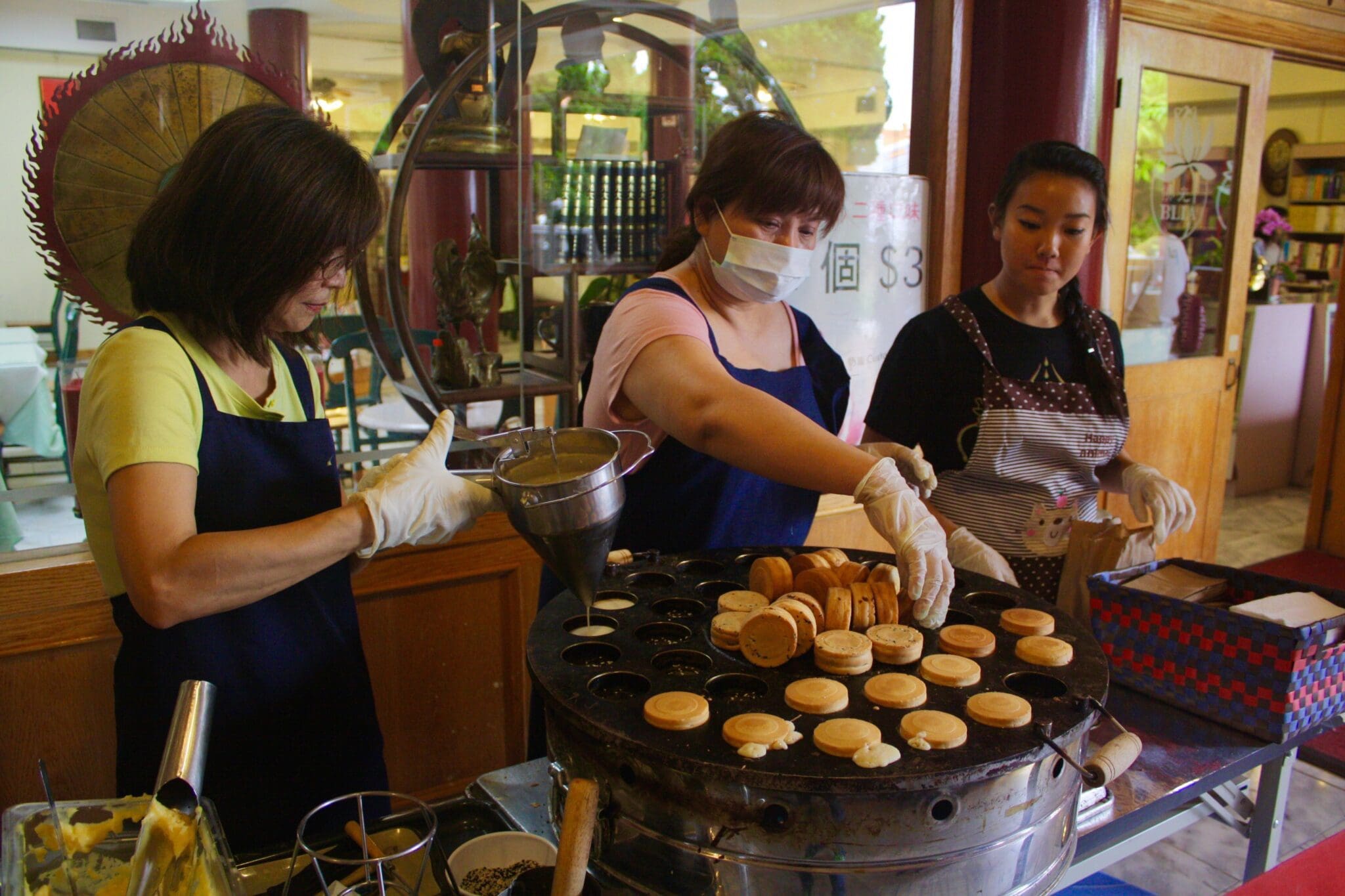 Decoding Rituals and Symbols of Buddhism
The Guibord Center visits Hsi Lai Buddhist Temple and Monastery in Hacienda Heights to learn the meaning of Buddhist rituals and symbols. Our guide for the journey is Venerable Mankwang, a Chinese Buddhist monastic.
One sees it initially from a distance, the gold curved rooftops and red trim sparkling in the sunlight on the hillside. White stone railings and tall cascading stairs invite stranger and friend alike to enter into this magical mountain monastery. And when one does a world of beauty lies waiting.
Fo Guang Shan Hsi Lai Temple, always abuzz with activity, once again graciously welcomes The Guibord Center's attendees to come and discover more about the signs and symbols of Humanistic Buddhism. We have been here before to learn about the Lotus Sutra, a text at the very heart of Buddhism. This morning we will learn about Buddhism in action and how it orients one in  the world through its signs and symbols.
The Saturday we arrive there are other groups forming to participate in monastic retreats and meditations. A children's summer camp is in full swing. The library is open as is the museum and the hospitality area. Volunteers offer tea and explanations to visitors. While we wait for our guide, Venerable Mankwang, to complete her other duties, we are encouraged to stroll down the long corridors lined with beautiful carvings and carefully sculpted gardens.
Soon a docent gathers us like swarming ducklings in the main square. She begins explaining the history of the Temple before our camera crew can even get in place. We try to slow her down but her enthusiasm outpaces our technology. And we trail her, cameras rolling, up the tall stairs into the main temple.
Buddhist Rituals and Symbols in the Main Hall
We have come to witness a young nun performing the offering rites for the noonday meal. Venerable Mankuang explains the intention behind the garb, the bow, the incense, the instruments, the prayers,.. and we become witness to humility and compassion made manifest carefully, mindfully, before us. We hear the ancient tale of a 'ghost' mother who during the night steals babies to feed her own hungry children. The Buddha teaches her to feel compassion for the mothers of those babies, and promises to set aside a portion of his every meal for her children so they will not go hungry. Today, the morsels of rice set aside remind us of the story and all those who are hungry.
Our very capable guide invites questions and our group does not disappoint as we get to a level deeper than the basics. Venerable Mankuang has a surprise for us. The Abbot himself has offered to meet with us. Venerable Hui Dong will share his insights about his faith. It is a great honor.
Meeting with the Abbot
We file into what someone in the group affectionately names "The United Nations Room" because of the microphones at each place and the horseshoe arrangement of the space. We are being allowed an audience of rare intimacy. After we are all in place, the young Abbot enters. He speaks to us not as students but as seekers.
For the next forty-five minutes he shares from his heart with great humility the essence of what he has come to understand as the core of his faith. He shares as a trusted colleague to equals. Without a single note, he clarifies and delves deeply addressing those things that we as people of faith ponder and seek to understand. His time with us is profoundly touching. Again, he too, encourages questions and answers each one with great presence.
When he is done, we are invited to lunch as guests of the Temple in the dining room below where one person is more generous than the next. Those who serve us do so with obvious delight and ask their own questions of us. They are clearly thrilled that we have come to see their beautiful temple and learn about their practice. Excitement flows as we discover more about each other and partake in delicious food and conversations.
We leave the Temple feeling much closer to Buddhism.