Cecil Murray Twice Tested by Fire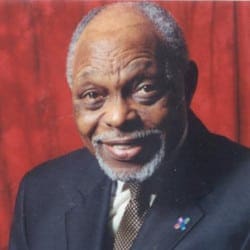 The Rev. Cecil "Chip" Murray
The Rev. Dr. Cecil "Chip" Murray is John R. Tansey Chair of Christian Ethics at the School of Religion, University of Southern California and a senior fellow at USC's Center for Religion and Civic Culture. He has lectured and served as adjunct professor at Iliff University, Seattle University, Claremont School of Theology, Fuller Seminary and Northwest Theological Seminary.
From 1977 to 2004, Dr. Murray was pastor of First African Methodist Episcopal, the oldest Black church in Los Angeles. During that time, he led the church's growth from 300 active members to more than 17,000. First AME's programs have brought jobs, housing, social services and community development to many South Los Angeles neighborhoods.
Dr. Murray holds a doctorate in religion from Claremont School of Theology and a Doctor of Humane Letters from Hebrew Union College. He served 10 years of active duty with the U.S. Air Force, receiving the Soldier's Medal of Valor in 1958.
The Cecil Murray Center for Community Engagement at USC's Center for Religion and Civic Culture and The Guibord Center – Religion Inside Out presented Twice Tested by Fire: A Conversation with Cecil "Chip" Murray. This book launch featured Rev. Dr. Cecil "Chip" Murray in conversation with the Rev. Dr. Gwynne Guibord at St. John's Episcopal Cathedral. The event marked the 20th anniversary of the 1992 civil unrest that ignited Los Angeles, leaving it changed forever.