African Spiritual Roots of Gospel Music
With Dr. Daniel Walker and the Gospel Music Workshop of America Los Angeles Chapter
The African Spiritual Roots of Gospel Music program challenged the assumption that the gospel music form emerged from Christian roots.
Dr. Daniel Walker enlightened a packed house at St. John's Cathedral by taking the audience back several hundred years to a territory between great rivers of West Africa. For the people who lived there, relationship with the spirits of their ancestors flowed through every aspect of their lives. They actively called on their ancestors though music, drumming, movement and audible conversation. As these same people were dragged to America in chains, they brought their rich and encompassing spirituality with them.
With the help of the Gospel Music Workshop of America Los Angeles Chapter, the spirit of the music came to life, as Dr. Walker placed each unique element into the original context from which it developed. Gradually, the audience warmed to the invitation to respond as the "spirit" moved them, and soon found themselves on their feet calling out "Amens," clapping, singing and moving along with the choir.
Dr. Walker helped us to understand and respect gospel music in an entirely new way. The Guibord Center – Religion Inside Out is proud to share this video with you.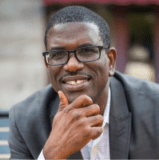 Dr. Daniel E. Walker is a globally recognized scholar, filmmaker and public speaker working in fields including history, film and religion. He is founding director of the University of  Southern California Digital Library's Gospel Music History Archive. In 2018, he served as lead historian and co-curator of How Sweet the Sound: Gospel Music in Los Angeles, an exhibit at the California African American Museum.
Dr. Walker earned his PhD with distinction in Latin American and African American History from the University of Houston. In 2018, he received an honorary doctorate  from  Claremont  Graduate University for his contributions to arts, design, and innovation.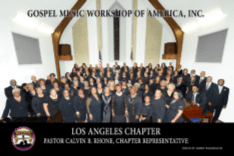 The Gospel Music Workshop of America, Inc. is the largest gospel convention in the U.S. Rev. James Cleveland, the late "King of Gospel," founded the group in 1967. The Los Angeles Chapter is proudly known as the "Founder's Chapter." It comprises a mass choir of singers directed by Herman Jones and supported by Rev. Quincy Fielding, Jr. Pastor Calvin B. Rhone, representative, and Ken Farris, MBA and Dr. Arlance Sims, assistant representatives, currently lead the chapter.
With its theme song, "We Are On Our Way," the Los Angeles Chapter continues upholding Rev. Cleveland's vision and legacy through offering its talents to charitable and community events year round.