Partnerships with Educational Institutions
One of The Guibord Center's goals is to increase opportunities for interfaith education and dialogue for elementary and secondary students. To that end, the Center is building strategic partnerships with local private schools to meet students where they are already active and have a supportive community for developing interfaith awareness. The following are current school partners with The Guibord Center.
Campbell Hall is an independent, co-educational K-12 day school affiliated with the Episcopal Church. It emphasizes academic excellence and spiritual formation, and is committed to fostering a community that honors the diversity of the human experience.
The Guibord Center is partnering with Campbell Hall to:
Provide speakers from a wide variety of faith and philosophical traditions for middle school chapel services;
Support a senior seminar on world religions with speakers from various faith traditions and the rich video resources available for free on The Guibord Center's website;
Organize volunteers from different faith traditions for Campbell Hall's annual Book Week to read stories to elementary children on the theme of kindness and compassion.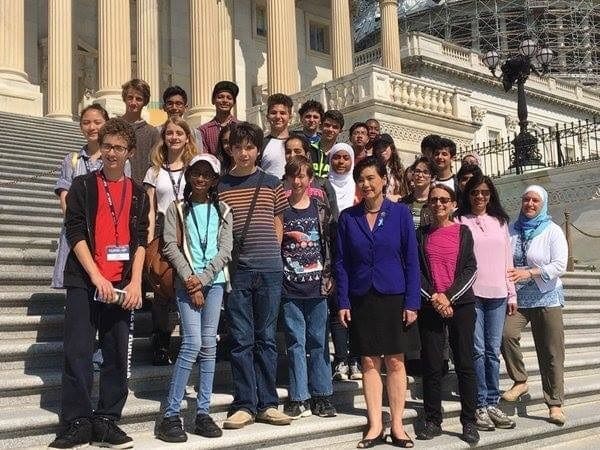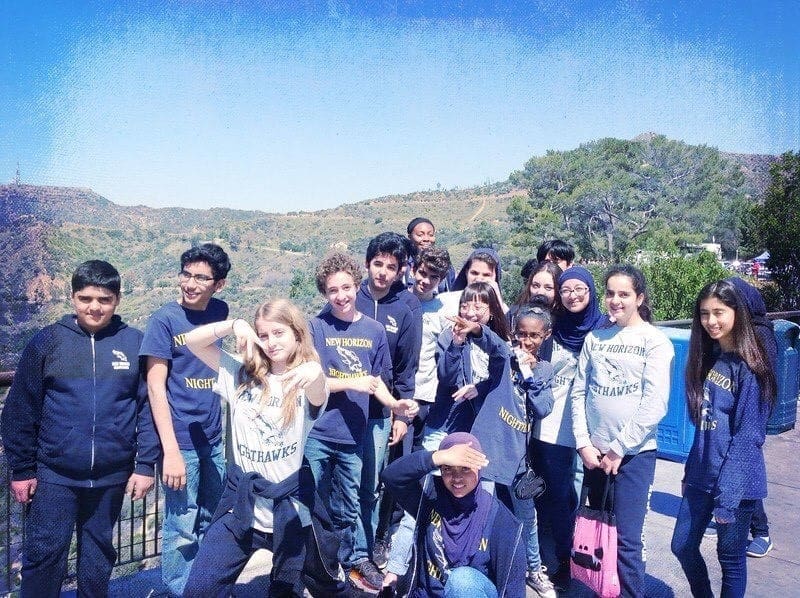 New Horizon School is a fully accredited, National Blue Ribbon school (preschool – 8th grade) that offers both academic excellence and firm grounding in moral and ethical values based on Islamic principles.
The Guibord Center works with New Horizon School and its interfaith partner, Weizmann Day School, to host Faith and Friendship Day, a two-hour interfaith event for older elementary students.
In April 2018, 5th and 6th graders explored how the teachings of Moses, Jesus and Mohammed demonstrated commitment, compassion and contemplation in building a life of faith in God. The students learned from each other about prayer practices and holy celebrations, and made new friends.
In April 2019, older elementary and middle schoolers studied Quran and Torah verses. They learned that Jews, Christians and Muslims share basic laws (called the Ten Commandments in some traditions). Students taught each other about prayer, fasting, holy days and charity.
Crossroads School for Arts & Sciences (Santa Monica)
Crossroads is a progressive coeducational K-12 college preparatory school. It is strongly committed to diversity, equity and inclusion, and 47 percent of the student body identifies as people of color. In September 2018, the school opened the Crossroads Equity & Justice Institute under the leadership of Founding Director Derric Johnson. The director's position, along with operating and program expenses, are fully endowed.
LINKS
Windward School Los Angeles (Mar Vista)
Terry Opalek and Lisa Patriquin of The Guibord Center – Religion Inside Out first talked with Meghan Tally of Windward School in early 2019.  Meghan, the Associate Director of the Prep Division, was also one of  the 11th grade AP English teachers, and they were working on the second iteration of a 5-week unit on Religion, Spirituality and Philosophy.  Could The Guibord Center bring four speakers from diverse faith traditions to speak with the students to kick off the unit?  Yes!  The speakers met with one hundred juniors for a lively Q & A, and lingered afterward to speak to several students who wanted more one-on-one conversation.  The event was a success and Meghan contacted Lisa a few weeks after to calendar a similar event for April 2020.
As we all know, COVID 19 closed campuses, but Windward immediately shifted to ZOOM meetings, so we held another interfaith conversation in April 2020, this time about a week into their 5-week unit.  Read the student facilitators' comments here.  Meghan Tally is moving on to a new position at The Archer School for Girls in Fall 2020, which is good news for both Meghan and TGC–The Guibord Center has done similar interfaith panels at Archer for their Diversity Conference since 2019 (see more below).  TGC is honored to continue to participate in these important interfaith conversations with Windward students in the future under the guidance of the new director and the AP English teachers.
LINKS
The Guibord Center is honored to provide speakers for local schools. This service is part of our efforts to expand students' understanding of many faith traditions and create conversations in which they can explore this aspect of identity in positive ways. Recent school visits and the respective speakers include:
The Archer School for Girls 2019 Diversity Conference
More than Malala! Examples of Faith-Filled Female Leaders
Dr. Rini Ghosh, TGC Board Member
Tasneem Noor, Co-Program Director for NewGround: A Muslim- Jewish Partnership for Change
Dr. Lisa Patriquin, TGC Program Director for Youth and Young Adults
We introduced the Middle and Upper School students to extraordinary female leaders from many faith traditions, and talked about what has made them influential agents of change. Each speaker highlighted one historical leader, one contemporary leader and one local leader. This focus enabled students to see that women have always seen needs or opportunities and used their own talents to bring positive change.
Viewpoint School 2019 Diversity Leadership Conference
Growing Up in a Lesser Known Religious Tradition
Farzana Ali, Ismaili Muslim
Yekta Hormozdiari, Zoroastrian (middle schooler)
Peter Kretzmann, Ananda
Riyana Roy, Hindu (middle schooler)
Girls Academic Leadership Academy 1st Annual Young Women's Career Conference
Samia Bano, TGC Young Adult Advisor.  Being a Change-Maker
Dr. Rini Ghosh, TGC Board Member. Being a Business Owner and and Interfaith Peace Activist
Marium Mohiuddin, TGC Graphics Designer. Communications in Daily Life
BK Sister Vinothini Sivasamy, TGC Advisory Council. Meditation and Brain Science
Dr. Lisa Patriquin, TGC Program Director for Youth and Young Adults. Being a Change-Maker
Campbell Hall Panel for Middle School Chapel 
From Then to Now: How My Faith Journey has Evolved
Keysha Baynes, Nichiren Daishonin Buddhist
Peter Kretzmann, Ananda
Mustafa Rony Zeno, Sunni Muslim